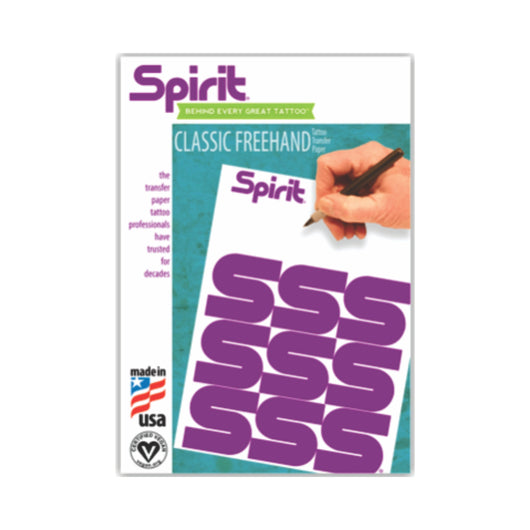 Spirit Classic Freehand Hectograph Paper - 8.5" X 11" (100 Sheets/Box)
Product SKU: SD05H
Regular price $49.00 Sale
Easily create tattoo stencils without a thermal machine using Spirit Classic Freehand Hectograph Paper. A Non-thermal stencil paper, Spirit's Classic Freehand Paper comes with three layers: the classic top tracing paper, the protective middle sheet, plus the backing sheet.
Spirit's Classic Freehand Hectograph Paper uses high-visibility purple dyes blended with a wax matrix. To achieve clearer stencils, the dye-wax blend is super smooth and highly responsive to pressure, allowing you to create any stencil with ease, even the most detailed.
Please Note: This paper is for hand-drawn stencils. This paper is not compatible with thermal or fax style printers.
Specifications
Dimensions: 8.5" x 11"
Freehand paper
Not compatible with thermal or fax style printers
Uses high-visibility purple dyes with a wax blend matrix
Smooth and responsive to pressure
Vegan-friendly; safe for most skin types
Made in USA
Box Size: 100 sheets/box